I like kerosene lanterns. Portable, rugged, simple machines that make light. I have them on my list of preps and keep them around the house in quantity. With proper care and maintenance they last darn near forever. But what lantern is a good one?
First, let's talk history.
The modern kerosene lantern is a design that is over 100 years old. Before electrification the barn lantern, hurricane lantern and railroad lantern were the standard for rough use illumination. As opposed to kerosene
lamps
which are generally more fragile and unsuited for moving around, the kerosene lantern was designed to be picked up, carried or hung by a hook.
The way the lantern works is there is a tank of kerosene at the base. A burner unit with a cotton wick inside is resting atop the tank (called a fount). The burner can be adjusted to bring the flame higher or lower and give more or less light. There is also a chimney, or globe, that protects and focuses or diffuses the light. The wick draws kerosene up from the fount due to capillary action. The wick is set alight and the kerosene burns.
There are three basic 'types' of kerosene lanterns. The oldest and most inefficient is the
dead-flame
lantern. This type is really nothing more than a wick with a chimney around it to protect the flame.
Next is the
hot-blast
lantern. This used tubular draft pipes to bring air to the burner by utilizing the principle of hot air rising. The hot blast lantern effectively reburns any partially burnt hydrocarbons from the wick and is more efficient than a dead flame lantern.
Last is the
cold-blast
lantern. Cold blast lanterns also have tubes to carry air to the burner but the tubes are vented via a chimney at the top so that the hot exhaust is carried away from the burner while fresh cold air is piped in. The cold blast produces a whiter light since the flame is not re-burning spent combustion products.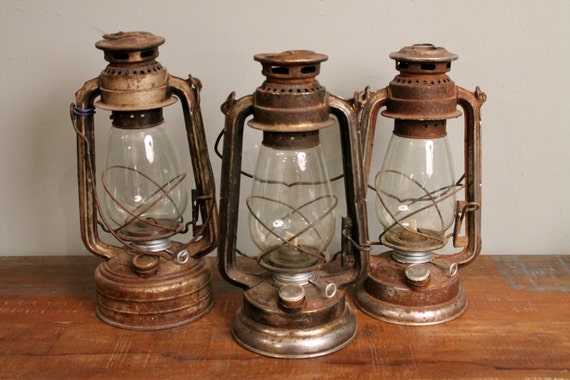 Most common lanterns are available in a variety of sizes from the small Winged Wheel 350 all the way to the large Dietz Jupiter. Lamp size will determine light output and fuel usage. Obviously there are differences in fount capacity, and a larger fount will burn longer between refills. Some large lanterns can also be used for limited heat sources.
There are and have been many makers of these lanterns and they are in fact still being produced to this day. The big names you run into are Dietz (Formerly a US company, now entirely Chinese) Feuerhand (Germany) and Winged Wheel (Japan).
There are still many lanterns made in various countries in Asia (China, India, etc) which are basically un-named that are tagged or retailed as all sorts of brands. Quality of these lanterns ranges from acceptable to poor. Bear in mind these are a semi-disposable consumer commodity lighting appliance and not an heirloom quality device. Paint finishes vary in color but are generally of the sprayed variety, and unpainted metal items such as burners and bails may be zinc or brass plated or in the white. There are higher-grade versions available at a higher price point but be aware that these are usually the same items just with nicer finishing and plated parts.
Fuel used should be kerosene or some petroleum product equivalent to kerosene with appropriate flashpoint. Kerosene substitutes, lamp fuels, Citronella Tiki torch oils, etc. all burn well in these flat-wick lanterns. If you intend to use the lantern inside you should pick a fuel that is as close to clear K-1 kerosene as possible. In my experience off-road fuels are dyed with a red dye that will clog up wicks in heaters and lanterns. They can be used just be aware that servicing the wick will happen more often.
NEVER use fuel that is contaminated with gasoline or any low flash point petrochemical. NEVER use Stoddard solvent or paint thinner. Using the wrong fuel can cause an explosion or a runaway vapor burn which will overheat the lantern and shatter the globe.
In the movies, they like to show a lantern getting knocked over, smashing, and the entire barn catches fire.
Well, that's the movies.
It is usually a good idea to have a stable, solid place to put the lantern. A countertop, a table, or a sturdy hook attached solidly to a wall or ceiling will safely support the lantern.
Kerosene lanterns are generally safe if used properly. Kerosene does not explode like gasoline does. Most lantern founts are only liquid tight up to the fill cap base. The tubes are usually not soldered and if you over fill excess fuel will spill out.
Servicing the lantern is simple. When the glass is cool, it can be wiped down inside and out. Properly trimming the wick and not over wicking will retard the production of carbon on the inside of the globe.
If the wick burns unevenly, trim it square across the edge with a sharp knife or scissors. Keep the fount clean and use fuel that is not contaminated with water because rust is common in the founts of older lanterns. You can clean your lantern's tubes and burner with pipe cleaners or a gun bore brush if they get spiderwebs inside them.
Spare parts- I prefer to keep to a couple of different common lantern styles so that I can keep a limited amount of spares on hand.
I would recommend a globe or two, and some spare wick roll. Lanterns that are 100 years old can still use the same parts as brand new lanterns made today.
I keep a half a dozen Dietz Junior #20s around, or their functional equivalent such as the Winged Wheel #500. This is probably the most iconic and copied lantern design in the world. Similar lanterns include the Little Champ and the Victor. These use a 5/8" wick and hold a bit over a half-pint of fuel which is a couple days worth. These are good for carrying around and for lighting a small to average room. I find that two of these lights up a good sized room with a nice light level.
Another popular small lantern is the Feuerhand Super Baby #175 and the Winged Wheel #350. These are small portable lanterns for carrying or for small areas. These use a 1/2" wick and hold about half-pint of fuel which is enough for a day or two.
Larger models include the Dietz Wizard, D-Lite and Air Pilot. These are a medium sized lantern that produces enough light for an average sized room. These use a 7/8" wick and hold about a quart of fuel which is 2-3 days of use.
The biggest model I own is a Dietz Jupiter. These are the medium-sized lantern with 7/8" wick combined with a fount that holds 2.5 quarts of kerosene. They run for days without filling- I go a week at least- and are very stable thanks to the large, wide fount.
The larger 7/8" wick sizes produce enough heat that they can be used as a light-duty heat source. Some models were used for greenhouses and orchards to keep frost away.
Buying:
You can still buy brand-new kerosene lanterns today. Amish communities and camping suppliers still stock them. Feed and stock stores carry them. Big box stores like WalMart stock them (but usually the cheap unbranded Chinese models.) They are available over the internet. Shipping needs to be considered especially due to the fragile nature of the glass globe but if packed well they survive even the USPSs best efforts to destroy them.
It is quite frankly amazing to me the number of people who find an old lantern in an old barn and then throw it on eBay with the words "Vintage, Antique, Rare" as if any of that were true.
It's quite common to find rusty, dented and nonoperational versions of lanterns you can buy today for DOUBLE the price. Certain variations are collectible, especially those stamped with special end users, like railways, city works departments, etc. and certain colors of globes are rare.
IMHO avoid the "collectible" lanterns, if all you want is a light source. Most lanterns, new, are about $25 shipped, and the big ones are still under $40 shipped.